Donate
1. Journey to Freedom. Urgent Campaign
Launched to Save 19 Families from Death in Cameroon
As Cameroon descends into civil war, a small Fairtrade NGO steps up to save 31 men, women and children from violence and death
According to Amnesty International, over 400 civilians have already been killed in Cameroon's bloody conflict.
Over $70,000 is needed in the next ten weeks to help these friends & neighbors flee the county.
California-based NGO Project Hope & Fairness (PH&F) today calls on supporters to help crowdfund $74,000 to save 31 men, women and children from the growing bloodbath in Cameroon.
Although PH&F normally focuses on supporting cocoa farmers in Cameroon and elsewhere to navigate Fairtrade rules, the scale of violence – including beatings, rape and murder – the NGO staff and volunteers have witnessed can no longer be ignored.
The 19 families are part of a minority group–targeted by both the government military and extremists – caught right in the middle of the civil violence in Cameroon.
Every cent and dollar donated will help fund transport, legal fees and safe houses for these 19 families. Over $11,000 has been raised to date. Donors who contribute to the campaign will be invited to share a meal with the families once they are settled in their place of asylum. Tax-deductible gifts can be made here:
To donate to this project either click the button below to donate online, or send a check to:

Journey to Freedom c/o Project Hope and Fairness
1298 Warren Road
Cambria, CA 93428
Put "Journey to Freedom" in the note line. THANK YOU!!
2. New Melangeur for Depa

This is a melangeur that makes 40 lbs of chocolate at a pop. That's enough to make 500-600 1-oz chocolate bars. We need to raise $9,000
in order to get a new one. Please help us!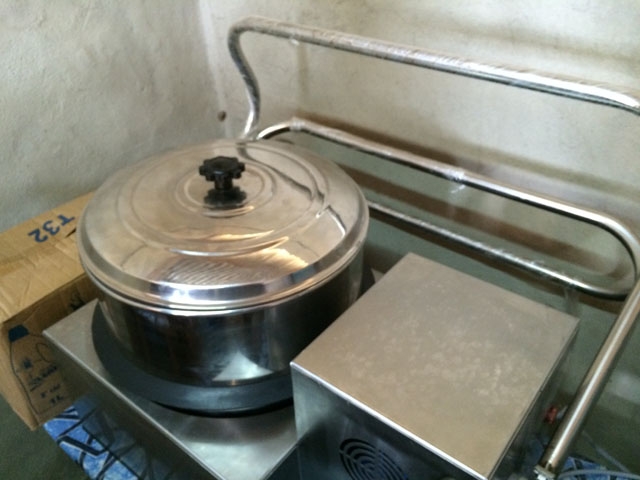 To donate to this project either click the button below to donate online, or send a check to:
Pezoan Project--Project Hope and Fairness
Donations Dept
1298 Warren Road
Cambria, CA 93428
Put "Melangeur" in the Notes line. THANK YOU!!
3. Fundraiser November __, 2019
We are raising money to finish building connecting hallways in the Depa chocolate facility and to purchase
a cocoa butter press and a cocoa grinder for Pezoan
Enjoy Christmas music, hear about our work in Côte d'Ivoire, eat French food, and drink wine!
Friday, November __, Parish Hall of the Mission Church
San Luis Obispo., 6:00 - 9:00 PM.
$85 per person. $75 if you pay by October 1st.
Please write your name(s) in the Comment Field.

You can pick up your IRS letter at the event.
---
How Our Funds Are Used
Our funds are used in the following way Our administrative costs are minimal, so your contribution is focused on getting the job done!
Travel to Africa by Tom
Purchase of tools to bring to villages
Infrastructure projects (e.g. wells, school roofs)
Purchase of large tools that build local economy (e.g. cargo trikes, freezers, refrigerators, chocolate machines)
Education-related (pens, books, lights for studying)
Our primary mission is to enhance the sustainability of West African cocoa villages. This can be done in many ways, and these are listed below. We enhance sustainability by making in-kind gifts, that is tools, and improvements in infrastructure. We also enhance sustainability by working with village officials to establish village bank accounts and earmark funds for village improvements. These include building solar dryers so that cocoa beans can be stored for months, allowing villages to sell beans at a higher price.
Donations to the first three categories (Education, Tools, and Infrastructure) are for in-kind gifts. Donations to the fourth category, General Funds, helps us hire and train personnel who will meet with village chiefs and elders, working with them to establish bank accounts and earmark funds. This money also helps us deliver some of the larger tools. To donate, select the category you are interested in helping and write it in the comments field when you use PayPal. We will allocate your donation to the specific category or subcategory. Thus, if you donate to "Education" that will go into a general education fund. However, if you specify that you wish to pay school fees, the money will be allocated to the school fees budget. We encourage donations to the General Fund, because costs of shipping items and traveling to villages are very high. We try to amortize such costs by bringing the products with us on the tours, but as targeted donations increase, it becomes more and more difficult to pay distribution costs with tour sales alone.