Donate
COMMANDE DE CHOCOLATS -- OU DON
1. Calculer le total de votre commande en dollars: multiplier le total en euros par un facteur de 1,2
2. Cliquer sur le bouton, Donate.
3. Entrer votre pays (France) dans le champ et suivre les instructions en français.
MERCI POUR VOTRE COMMANDE! -OU- MERCI POUR VOTRE DON!
2. Tempering Machine for Depa

Purchase a tempering machine: $5,000
David needs a tempering machine that will make smooth, shiny chocolate bars.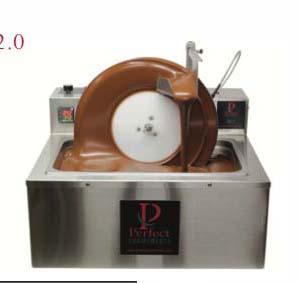 To donate to this project either click the button below to donate online, or send a check to:
Depa Project--Project Hope and Fairness
Donations Dept
1298 Warren Road
Cambria, CA 93428
Put "Temperer" in the Notes line. THANK YOU!!
---
How Our Funds Are Used
Our funds are used in the following way Our administrative costs are minimal, so your contribution is focused on getting the job done!
Travel to Africa by Tom
Purchase of tools to bring to villages
Infrastructure projects (e.g. wells, school roofs)
Purchase of large tools that build local economy (e.g. cargo trikes, freezers, refrigerators, chocolate machines)
Education-related (pens, books, lights for studying)
Our primary mission is to enhance the sustainability of West African cocoa villages. This can be done in many ways, and these are listed below. We enhance sustainability by making in-kind gifts, that is tools, and improvements in infrastructure. We also enhance sustainability by working with village officials to establish village bank accounts and earmark funds for village improvements. These include building solar dryers so that cocoa beans can be stored for months, allowing villages to sell beans at a higher price.
Donations to the first three categories (Education, Tools, and Infrastructure) are for in-kind gifts. Donations to the fourth category, General Funds, helps us hire and train personnel who will meet with village chiefs and elders, working with them to establish bank accounts and earmark funds. This money also helps us deliver some of the larger tools. To donate, select the category you are interested in helping and write it in the comments field when you use PayPal. We will allocate your donation to the specific category or subcategory. Thus, if you donate to "Education" that will go into a general education fund. However, if you specify that you wish to pay school fees, the money will be allocated to the school fees budget. We encourage donations to the General Fund, because costs of shipping items and traveling to villages are very high. We try to amortize such costs by bringing the products with us on the tours, but as targeted donations increase, it becomes more and more difficult to pay distribution costs with tour sales alone.